Business Litigation and Alternative Dispute Resolution
Commercial litigator representing smaller and medium-sized businesses in the state and federal trial courts of New Jersey.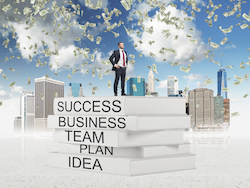 None of our firm's clients are in the business of litigation. However, the reality of today's business environment is that litigation is sometimes unavoidable, even for a well-run company. The difficulty is that litigation can put at risk everything a business owner has worked so hard to build, and can negatively impact the ability of any business to meet its goals and objectives efficiently and profitably.
With that in mind, We use the litigation process to position our clients for the best possible result that can be obtained in a business dispute. Mr. Friedman has considerable trial experience in both state and federal court, and is therefore able to quickly and correctly analyze the issues and risks presented by a commercial case. We represent businesses in a wide array of business and commercial matters, including:
Breach of contract;
Deceptive trade or business practices;
Tortious interference claims;
Negligence;
Partnership disputes; and
Claims involving restrictive covenants.
Where necessary, we have extensive bankruptcy experience, and therefore has the knowledge and skill necessary to aggressively represent our clients in the United States Bankruptcy Court.
Why use a smaller firm for your business litigation needs?
Many of our business and commercial clients prefer us over large law firms. There are several reasons for this:
Cost - Any business or commercial client who has been through the litigation process knows that fees and costs can mount rapidly, and can often outstrip the dollar value of the case. Indeed, many of our business clients came to us after having used other firms who charged large fees without providing a meaningful result. These clients want what any business wants - the right result achieved in an efficient and cost-effective manner.
We are different. We are efficient because we are small. Our base rates are lower than those charged by larger firms, but the quality of our work is the same. This is precisely why many small and medium-sized businesses use us for their business litigation needs. If and when costs start to mount, we discuss with the client how to best manage them under the circumstances.
Experience - Notwithstanding the website bravado, the truth is that many large firm attorneys rarely - if ever - set foot in court. If they do, it is usually just to attend a routine case management conference or relatively simple motion hearing. In fact, large firm lawyers spend most of their time in their offices drafting and responding to requests for information ("discovery"), and then settle the case before meaningful court appearances are required.
We are different. We are very familiar with trial practice and courtroom procedure, and have tried numerous cases before judges and juries all the way to winning favorable verdicts for our clients.
Investment, Understanding and Relationship - Any large firm will generate a good work product on paper. But does a large firm truly understand that needs of a smaller or medium-sized business? Does that firm really understand what it took to create that business, and what the business requires to survive and thrive? Can the principals of that business develop a meaningful and long-lasting relationship with the attorneys? The answers to these questions is frequently "no".
We are different. Because we are smaller, we understand the needs of comparably sized businesses. We share a feeling of investment with our business clients. Our personal connection to the needs of our clients shows that we really care about everything we do.
Alternative Dispute Resolution
Commercial litigation is not always the best way to resolve a business dispute, and we understand this. Where possible, we try to resolve cases by means of alternative dispute resolution, such as mediation and arbitration. Mr. Friedman is a trained professional mediator, and has successfully negotiated resolutions to a wide array of business and commercial disputes. Where possible, we pursue mediation or arbitration as a faster, more efficient and cost-effective alternative to business litigation.
If you are a small or medium-sized business that requires representation in a business or commercial case in a New Jersey state or federal trial court, call us to learn what we can do to resolve your dispute favorably and efficiently.