Domestic Violence
New Jersey Domestic Violence Lawyer Defending Against Charges of Domestic Violence in all New Jersey Courts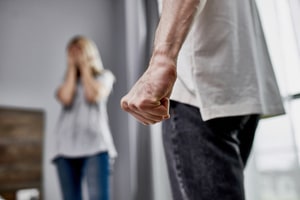 Charges of domestic violence are taken very seriously in New Jersey. If they are not handled successfully in court, the defendant can be left with a record that can limit job choices, and require changes in living accommodations and custody arrangements. Depending upon the nature of the case, domestic violence charges can also result in criminal convictions for serious indictable/felony offenses, substantial jail time, and the payment of significant fines.
In New Jersey, domestic violence may be viewed as a pattern of abusive behavior in any relationship that is used by one partner to gain or maintain power and control over another partner. This is, however, a very general definition. In fact, and under current law, domestic violence can arise from and/or relate to a variety of offenses and situations, and can occur in many different kinds of relationships.
Under New Jersey's Prevention of Domestic Violence Act, numerous offenses can qualify as domestic violence. These include homicide, assault, terroristic threats, stalking, kidnapping, criminal restraint, false imprisonment, sexual assault, criminal sexual contact, lewdness, criminal mischief, burglary, criminal trespass, and harassment. Thus, a domestic violence case can involve charges for serious crimes. Further, domestic violence does not necessarily involve physical contact with an alleged victim. A domestic violence charge can be based on verbal conduct. It can also include actions that are viewed as emotionally, economically, or psychologically oppressive.
The parties to a domestic violence charge do not have to be spouses, and need not live together. Unmarried individuals in an intimate or close relationship (such as domestic partners), or people who share a residence even if they are not intimately involved with each other, can be parties to a domestic violence case. Further, the conduct of a current or former spouse, a current or former member of the household, a current or former girlfriend or boyfriend, or a parent of a child or expected child, can be the basis for a charge of domestic violence. Accordingly, the definition of domestic violence is very broad, and includes a wide array of different parties and circumstances.
Some domestic violence cases result in an automatic arrest; otherwise, the investigating officer may arrest the person accused of domestic violence after evaluating the known facts and circumstances that gave rise to the initial complaint.
Many domestic violence matters start with the issuance of a temporary restraining order. The alleged victim obtains this order with no input from the defendant. The defendant is then served with a copy of the order, which places restrictions on the nature and extent of the contact s/he can have with the alleged victim, as well as a hearing date. The purpose of the hearing is to determine whether the temporary restraining order will be converted into a final restraining order. The final restraining order will contain, among other things, as series of restrictions on the contact the parties may have going forward. In many respects, a final restraining order has the same effect as a criminal conviction. For example, it turns up in background checks conducted by prospective employers, and could prevent the defendant from seeking or maintaining employment. It can also destroy a family by upsetting long-standing visitation and custody arrangements.
If the defendant is a gun owner, their guns, as well as their firearms purchaser identification card, will almost certainly be seized when the temporary restraining order is issued. Depending upon the outcome of the case, they may not get them back. Also, even if someone is not currently a gun owner, a history of domestic violence can prevent them from ever becoming one.
Domestic violence matters are very complicated and raise numerous issues that spread across a wide field. Defendants in these cases should be represented by a seasoned domestic violence attorney in New Jersey who understands all of these issues, and can address them in a way that leaves the defendant in the best possible position.
We are New Jersey domestic violence attorneys representing parties in domestic violence matters in courts throughout the State. If you have a domestic violence matter, either contact us by e-mail, or call us to learn about your options.