Federal Criminal Charges
Criminal Defense Attorney Representing Clients in the United States District Courts in New Jersey and New York City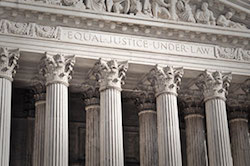 A federal criminal case pits the defendant against the full force of the prosecutorial authority of the United States Government, which includes the United States Attorney's Office and any number of federal law enforcement agencies. Few things can be more overwhelming than having to confront law enforcement authorities on the Federal level. Because the opposition is so fierce and the stakes are so high, representation by an experienced Federal criminal defense attorney is critical. In fact, the defendant's freedom depends on it in almost every Federal case.
The law firm of James S. Friedman, LLC, represents individuals charged with criminal offenses in Federal court, and has obtained excellent results for clients with charged with various federal criminal offenses:
Internet or Computer Crimes: Criminal charges involving child pornography (possession or distribution); Solicitation of a minor by means of the Internet; Fraud and theft offenses ("Phishing"), and any other Federal offenses involving the use of a computer, the Internet, or the World Wide Web;
Drug Crimes: Possession; manufacturing; distribution; drug trafficking, and any other Federal drug charges or narcotics crimes;
White Collar Crimes: Offenses arising from allegations of fraud or theft; mail fraud, postal crimes, bribery, embezzlement, identity theft, racketeering (RICO); securities fraud; and tax-related crimes;
Homeland Security Offenses: including airport security violations;
Offenses related to Interstate Commerce: Illegal transportation of guns, drugs, and other contraband over state lines; Hobbs Act crimes;
Violent Crimes - Homicide/murder; robbery; carjacking; kidnapping; Weapons offenses; and

Other Federal Offenses: firearms charges, theft, bank robbery, and counterfeiting.
Aggressive Criminal Defense Against Federal Drug and Internet-Related Charges
Federal authorities are enforcing narcotics laws more aggressively than ever. The penalties in these cases can include substantial prison sentences depending upon, among other things, the type and quantity of substance involved.
Further, the number of Federal prosecutions relating to computers, the Internet and/or the World Wide Web is also growing. This marked increase in criminal prosecutions for Internet crimes is attributable, at least in part, to technological advances and growing cooperation between law enforcement agencies at all levels of government. Law enforcement is steadily becoming more sophisticated in the detection, investigation and prosecution of this class of offenses. Criminal defendants facing such charges need representation by an experienced criminal attorney who understands these cases.
The law firm of James S. Friedman, LLC, represents criminal defendants charged with a wide array of offenses in Federal court. Call 800-361-6554 to schedule an initial consultation concerning your Federal criminal case.
Aggressive and Experienced Negotiator
Mr. Friedman works diligently to defend individuals accused of Federal offenses. He understands the Federal sentencing guidelines and how to negotiate with Federal authorities. He also knows that an aggressive defense and strong negotiation skills lead to positive results.
Contact James S. Friedman, Criminal Defense Lawyer
If you have been arrested or are being investigated for a Federal offense in New Jersey or New York city, James S. Friedman, LLC, can provide you with the aggressive representation you need to achieve a positive outcome in your case. To schedule a consultation, contact Mr. Friedman online or call toll free at 800-361-6554.