James S. Friedman, Esq.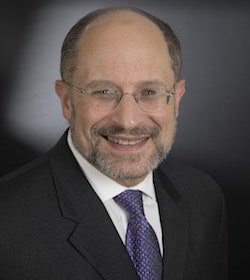 Telephone: 732-979-2259 Ext: 101
Fax: 732-579-8311
5 Elm Row #300
New Brunswick, NJ 08901
Areas of Practice
»Criminal Defense
»Business Litigation
James S. Friedman has been an attorney since 1992. Jim received his bachelor's degree from New York University in 1982, his master's degree from The University of Michigan in 1985, and his law degree from Brooklyn Law School in 1991. While in law school, Jim was selected as a member of the Moot Court Honor Society, and received the Philip K. Yonge Memorial Award in Bankruptcy and Commercial Law.
Originally from New York City, Jim relocated to New Jersey after graduating from law school to serve as a judicial law clerk to a Federal bankruptcy judge. Following his clerkship, Jim was associated with several of the State's more prominent law firms. At this stage of his career, most of his work focused on complex civil and commercial disputes in the State and Federal courts of New Jersey and New York. His cases ran the gamut from bankruptcy, commercial/business litigation and foreclosure cases, to environmental and employment litigation and land use matters.
Jim opened his own firm in January, 2000. Since that time, his practice has focused on two areas. Jim represents adult and juvenile defendants in criminal cases in the State and Federal trial courts of New Jersey and New York. Jim's clients include individuals charged with indictable/felony offenses, non-indictable/misdemeanor offenses, and traffic infractions and other local matters in the New Jersey Municipal Courts and the town courts of New York State. Jim also represents defendants seeking to appeal criminal convictions from the New Jersey trial courts to the Appellate Division of the New Jersey Superior Court, and from the Federal district courts located in New Jersey to the United States Court of Appeals for the Third Circuit. Additionally, Jim handles municipal appeals from the New Jersey Municipal Courts to the New Jersey Superior Court.
Further, Jim represents business owners in a wide array of commercial matters in the state and federal courts of New Jersey. This area of his practice includes attempting to negotiate the resolution of collection disputes as efficiently as possible, representing business clients in commercial litigation cases in the New Jersey Superior Court when negotiations have failed to produce acceptable results and, if necessary, representing business creditors in the United States Bankruptcy Court. Jim's commercial creditor clients, which include a wide array of businesses, come to him from throughout New Jersey, other states and other countries.
Jim is committed to providing personalized, cost-effective legal solutions in all of his matters. He is very practical and results-oriented in his approach to cases. He understands that most of his clients do not reach out for an attorney because of some positive event that has occurred in their personal or business lives; rather, clients contact him because they have a problem that must be solved as quickly and as efficiently as possible.
Jim's diverse background and wide array of experience have equipped him to function effectively in a wide array of courtroom environments. He is admitted to practice before all of the state courts of New Jersey, New York and Massachusetts, the United States District Courts for the District of New Jersey and the Southern and Eastern Districts of New York, the United States Courts of Appeals for the First and Third Circuits, the United States Supreme Court, and the United States Court of Appeals for the Armed Forces.
Jim lives in northern New Jersey. His personal interests include photography, outdoor sports and activities, music and weight training.
To learn more about Jim, read:
BAR ADMISSIONS:
New Jersey
New York
Massachusetts
U.S. District Court Southern District of New York
U.S. District Court Eastern District of New York
U.S. District Court District of New Jersey
U.S. Court of Appeals 3rd Circuit
U.S. Court of Appeals 1st Circuit
U.S. Court of Appeals for the Armed Forces
U.S. Supreme Court
EDUCATION:
Brooklyn Law School, Brooklyn, New York, 1991
Juris Doctor Degree
Honors: Member, Moot Court Honor Society
Honors: Recipient, Philip K. Yonge Memorial Award
University of Michigan, 1985
Master's Degree
New York University, 1982
Bachelor's Degree
Honors: Recipient, Founders' Day Award for Academic Achievement