Middlesex County, New Jersey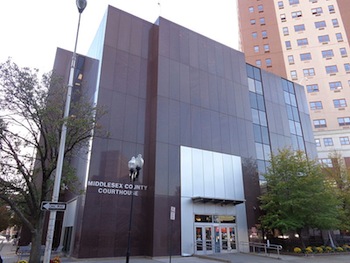 We are conveniently based in New Brunswick, which is the county seat of Middlesex County, New Jersey. Middlesex is conveniently located in the North-Central part of the State, and is bordered by Monmouth County, Mercer County, Union County, and Somerset County. Middlesex is also half-way between New York City and Philadelphia. Our placement in New Brunswick was no accident. This location allows us to easily reach our many clients in both the northern and southern parts of New Jersey, making our practice truly State-wide.
Aside from its central location, New Brunswick is one of the most active municipalities in both Middlesex County and the entire State. It is the home of the main campus of Rutgers University, as well as large hospital facilities and a substantial business community consisting of a mix of large corporations and small storefront businesses. The Superior Court of New Jersey for Middlesex County is also located here. The city can be easily reached by the New Jersey Turnpike (Exit 9).
The Middlesex County Superior Court Criminal Division carries a substantial caseload. The work of the Criminal Division is currently divided among the Presiding Judge and six other criminal judges. The Court, Criminal Division Manager's Office and Criminal Records, are all located at the Middlesex County Courthouse, 56 Paterson Street, New Brunswick, New Jersey 08903. Our Church Street offices are located just a few short blocks from the Middlesex County Courthouse. The Court hears cases involving indictable/felony offenses including, homicide, carjacking, robbery, sex crimes, assault, drug offenses, and theft offenses.
Middlesex County has approximately 25 different municipalities. Some of these are large urban centers, while others are rural towns. Some of the larger cities and towns in Middlesex County, each with its own municipal court, include:
New Brunswick
Edison
Woodbridge
North Brunswick
South Brunswick
East Brunswick
Sayreville
Old Bridge
Monroe
Piscataway
Carteret
South Plainfield
Perth Amboy
Middlesex County is the major transportation corridor county of New Jersey. Major highways located in the County include the New Jersey Turnpike, Interstate 287, U.S. Routes 1, 9 and 130, the Garden State Parkway and State Routes 18, 27, 34, 35 and 440. Given the number of major roadways and the volume of traffic they carry on a daily basis, it is not surprising that the County's municipal courts all have heavy caseloads, which include traffic and related offenses such as driving while intoxicated/DWI, as well as disorderly persons and petty disorderly persons criminal offenses.
The Middlesex County Prosecutor's Office has the following special sections and units:
Majors Crimes Unit - Investigates homicides, suspicious deaths, and police shootings.
Fatal Crash Unit - Investigates and prosecutes car accidents arising from or relating to criminal conduct that result in death or serious bodily injury.
Special Victims Unit - Focuses on cases involving allegations of physical or sexual abuse against children or adults.
Domestic Violence Unit - Prosecutes domestic violence cases, alleged violations of restraining orders, and matters involving weapons seized in connection with domestic violence charges.
Megan's Law Unit - Responsible for assessing sex offenders for purposes of tier assignment (low, medium or high risk). Investigates and prosecutes alleged violations of Megan's Law by those subject to community supervision or parole supervision requirements.
Elderly Abuse and Exploitation Team - Focuses on offenses (frequently fraud and theft) against senior citizens.
Juvenile Offender Unit - Investigates allegations of juvenile delinquency. Prosecutes juvenile cases in the Middlesex County Family Court.
Bias Crime Unit - Investigates and prosecutes allegations of criminal conduct stemming from prejudice based upon race, ethnicity, national origin, religion, sex, sexual orientation, gender identity, or gender expression.
Special Investigations Unit - Investigates and prosecutes white collar or financial crimes, such as fraud, embezzlement, money laundering, forgery and public corruption.
Insurance Fraud Unit - Handles cases involving allegations of various types of insurance fraud. Works in conjunction with State and Municipal agencies, including the Office of the Insurance Fraud Prosecutor.
Arson Unit - Focuses on cases involving suspicious fires (vehicle or structure), and related offenses.
Guns, Gangs and Drugs Task Force - Investigates and prosecutes individuals charged with activities relating to illegal narcotics, weapons, and/or street gangs.
Have you or someone you know been charged with an indictable/felony offense in the Middlesex County Superior Court? Do you have to appear in any municipal court anywhere in Middlesex County on account of a disorderly persons, petty disorderly persons, DWI or traffic offense? If so, the first step in planning your defense should be to contactus. We have substantial experience defending people charged with criminal and traffic offenses in Superior and Municipal Courts throughout New Jersey. Contact us today to learn what we can do for you.