Monmouth County, New Jersey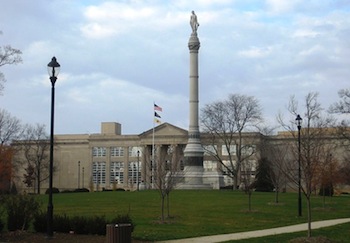 Monmouth County is located in central New Jersey. It is bordered by Middlesex County, Ocean County, Burlington County and Mercer County. Monmouth is the northernmost county of the New Jersey Shore. Its significant shoreline hosts numerous waterfront communities, and the Gateway National Recreation Area. The county seat is Freehold Borough.
The Monmouth County Criminal Division has six trial judges and a drug court judge. The Criminal Division is located at the Monmouth County Courthouse, 71 Monument Park, Freehold, New Jersey 07728.
Some of the larger municipalities in Monmouth County include:
Aberdeen
Asbury Park
Colts Neck
Eatontown
Freehold Borough
Freehold Township
Hazlet
Holmdel
Howell
Keansburg
Long Branch
Manalapan
Marlboro
Middletown
Millstone
Neptune
Ocean
Red Bank
Tinton Falls
Wall
Each Monmouth County municipality either has its own municipal court, or shares one with a neighboring town. The Gateway National Recreation Area has the equivalent of a municipal court in the United States District Court for the District of New Jersey. What would otherwise be municipal offenses are heard in this Court if committed at Gateway because Gateway is federal property.
Numerous important roads pass through Monmouth County, including Route 18, Route 33, Route 33 Business, Route 34, Route 35, Route 36, Route 66, Route 70, Route b71, Route 79, Route 138, and U.S. Route 9.
Monmouth County becomes very popular during the summer months because of its long shoreline. All of this traffic generally results in a noticeable increase in criminal offenses throughout the County at both the Superior and Municipal Court levels during the warmer months. DWI checkpoints on the County's roads tend to be more common during that period.
The main office of the Monmouth County Prosecutor is located in Freehold. Like many New Jersey county prosecutors offices, Monmouth has a Computer Crimes Unit, which focuses on computer-assisted crimes in Monmouth County. This Unit investigates and prosecutes a variety of crimes, including online theft and fraud, online threats, hacking into computer networks, child luring, and possession and/or distribution of child pornography. Additionally, the Computer Crimes Unit supports the activities of other law enforcement agencies, and works with the New Jersey Internet Crimes Against Children (ICAC) Task Force, the State Police, the National Center for Missing and Exploited Children (NCMEC) and Federal and State agencies that target online offenses against children.
The Prosecutor's Office also has a Narcotics and Gang Investigation Section which investigates narcotics, gang and firearm offenses. The Bureau is comprised of the Narcotics Strike Force, the Criminal Gang Investigation Bureau, the Tactical Narcotics Team, the Bayshore Strike Force and the Electronic Surveillance Squad.
The Narcotics Strike Force investigates and prosecutes individuals accused of using and/or distributing controlled dangerous substances, as well as related gun and weapons offenses. The Tactical Narcotics Team (TNT) is a component of the Strike Force that works in high narcotics trafficking areas.
The Criminal Gang Investigation Bureau investigates and prosecutes defendants accused of offenses relating to gang membership and gang violence.
The Bayshore Strike Force investigates and prosecutes narcotics-related offenses in various Monmouth County municipalities including Aberdeen, Atlantic Highlands, Hazlet, Highlands, Holmdel, Keansburg, Keyport, Matawan, Middletown and Union Beach.
The Electronic Surveillance Squad gathers electronic evidence in connection with criminal investigations.
Have you been charged with an indictable/felony offense in the Superior Court in Monmouth County? Have you been charged with a disorderly persons offense, petty disorderly persons offense, traffic offense or DWI in a municipal court in Monmouth County? If so, start learning about your options and planning your defense by calling us. We represent defendants in all criminal and juvenile matters in the Monmouth County Superior Court, and in all municipal courts in Monmouth County.