Obstruction of Justice and Related Offenses
Criminal defense attorney in New Jersey representing defendants charged with eluding, resisting arrest, hindering apprehension, and related charges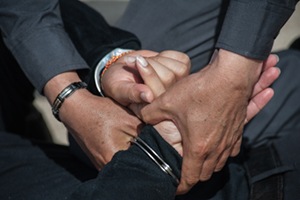 These are different offenses that usually involve preventing police officers from arresting someone, or from performing other law enforcement activities. They can, however, arise in other factual scenarios. They also can be charged as distinct offenses by themselves, or in conjunction with charges for other (more serious) crimes.
Obstructing the Administration of Law/Obstruction of Justice
New Jersey refers to the criminal offense of obstruction of justice as obstructing the administration of law. This is a very broad offense that includes a wide array of activities, but generally refers to obstructing or impairing the administration of law or another governmental function. It also includes preventing or attempting to prevent a public servant, such as a police officer, from lawfully performing his or her official duties by means of flight, physical interference, or another unlawful act.
Many obstruction charges stem from interactions with police officers. When confronting an obstruction offense, it is important to remember that mere words, by themselves, are not enough to sustain the charge. Thus, someone cannot be charged with interfering with a police officer's actions because they merely said something to the officer. The defendant must have engaged in conduct that affirmatively prevents the officer from performing their job. Additionally, the police officer must have been prevented from doing something within their lawful authority. A charge for obstruction cannot be based upon a police officer's unlawful activity.
An obstruction charge can be a fourth degree offense, which exposes the defendant to a State prison sentence of 18 months, as well as fines and penalties. Obstruction can also be charged as a disorderly persons offense, which carries a jail sentence of up to 6 months, along with fines and penalties.
Resisting Arrest
Someone who prevents or attempts to prevent a police officer from effecting an arrest can be charged with resisting arrest. At this level, the charge will be a disorderly persons offense. The charge will be upgraded to a fourth degree offense if the conduct that prevents the arrest involves flight. The charge will be further upgraded to a third degree offense if the conduct that prevents the arrest involves physical force or violence, or creates a substantial risk of physical injury to, the officer or someone else.
The penalties for the disorderly persons or fourth degree offense are discussed above. A conviction for the third degree offense can result in a State prison sentence of up to five years, as well as fines and penalties.
Eluding
Eluding can be either a third degree or a second degree offense. Third degree eluding occurs when the driver of a vehicle receives a signal from a law enforcement to stop (e.g., flashing strobe lights from the top of the police car), but keeps driving in an effort to "lose" the officer. The third degree offense gets upgraded to a second degree offense if the manner in which the driver is operating their vehicle creates a risk of death or serious bodily injury to another person. A seasoned New Jersey eluding lawyer will be able to understand and explain these distinctions as they apply to any individual case.
Penalties for third degree offenses are discussed above. A conviction for a second degree offense can lead to a 10-year prison sentence, as well as fines and penalties.
Because eluding can result in prison sentences and other penalties, defendants with this charge must be represented by an experienced New Jersey eluding attorney.
Hindering Apprehension or Prosecution
Someone can be charged with this offense when, with the purpose to hinder or prevent the arrest or prosecution of another person, he or she:
Hides the other person;
Provides the other person with money, a weapon, transportation or a disguise to help them escape;
Destroys evidence or tampers with a witness that may assist in the other person's arrest or prosecution;
Warns the other person of an impending arrest;
Prevents someone, by means of force, intimidation, or deception, from doing something that may result in the other person's arrest or apprehension;
Assists the other person in profiting from their crime; or
Gives false information concerning the other person to the Office of the Insurance Fraud Prosecutor.
Depending upon the facts and circumstances of the case and the nature of the defendant's conduct, hindering apprehension can be a fourth, third or second degree offense. Defendants charged with this crime should be represented by a New Jersey hindering apprehension lawyer who understands these distinctions.
Have you been charged with obstruction of justice, resisting arrest, eluding or hindering apprehension or prosecution? If so, do not speak to any representative of law enforcement concerning any aspect of your case. Contact us to learn about your rights, and to plan your defense.