Ocean County, New Jersey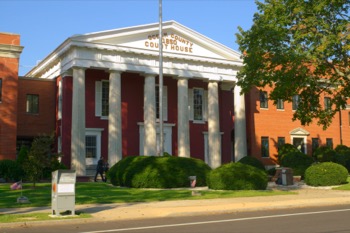 Ocean County is located along the central/southern portion of the Jersey Shore. The county seat, Toms River, is also the location of the Ocean County Court House and Justice Center, the Ocean County Jail, and the Ocean County Prosecutor's Office. Adjacent counties include Monmouth County, Atlantic County, and Burlington County.
State Routes running through Ocean County include Routes 13; 35; 37; 70; 72; 88; and 166. U.S. Route 9, the Garden State Parkway, and Interstate 195 also pass through the County. New Jersey Transit's North Jersey Coast Line connects the northern part of Ocean County with Monmouth County and Middlesex County.
Ocean County is a retirement destination for many people, and has a substantial senior citizen population. One-third of the individuals living in the County are over 60 years of age.
The following townships and boroughs, each with a municipal court, are located in Ocean County:
Barnegat
Bay Head
Beach Haven
Beachwood
Berkeley
Brick
Eagleswood
Harvey Cedars
Island Heights
Jackson
Lacey
Lakehurst
Lakewood
Lavallette
Little Egg Harbor
Long Beach
Manchester
Mantoloking
Ocean Gate
Ocean
Pine Beach
Plumstead
Point Pleasant
Seaside Heights
South Toms River
Stafford
Toms River
Tuckerton
The Ocean County Prosecutor's Office maintains the following special units and teams:
Domestic Violence Unit - Investigates and prosecutes contempt cases involving violations of restraining orders. Handles weapons forfeiture matters stemming from allegations of domestic violence. Also investigates cases involving law enforcement officers accused of domestic violence, and cases involving interference with child custody arrangements, such as where a non-custodial parent allegedly took their child unlawfully.
Drug Court Unit - Drug Court allows defendants charged with non-violent offenses to be placed on probation as an alternative to a jail sentence. Drug Court probation typically involves intensive supervision, including regular court appearances before the Drug Court judge so as to ensure compliance with program requirements.
Economic Crime Unit - Investigates and prosecutes white collar financial crime including, without limitation, insurance fraud, contractor fraud, bank fraud, abusive practices involving power of attorney, the alleged use of counterfeit documents, identity theft, embezzlement, theft by deception, credit card fraud, prescription fraud, Ponzi schemes, money laundering, and related offenses.
High Tech Unit - Investigates and prosecutes crimes involving the use of computers, technology and the Internet including Internet fraud, credit card fraud and theft, identity theft, child luring and pornography, and threatening messages sent via e-mail or social media.
Major Crime Unit - This unit is actually composed of four separate units. These are Arson, Vehicular Homicide, Environmental Crimes and Homicide. The Arson Unit focuses on suspicious fires, blasts and bomb threats. The Vehicular Homicide Unit handles serious collisions between cars, and between marine vessels. The Homicide Unit investigates murders, suicides, and other accidental or suspicious deaths. The Environmental Crimes Unit investigates criminal violations of New Jersey's environmental laws.
Megan's Law Unit - Supervises Megan's Law registrants in the County. Tiers registrants according to risk level (low, medium or high), and prosecutes registrants who allegedly violate Megan's Law registration and reporting requirements, and/or terms and conditions of community supervision or parole supervision.
Senior Bias Crimes Unit - Focuses on allegations of criminal conduct by individuals who allegedly use the Internet or mailings to target the elderly.
Special Operations Unit - Investigates and prosecutes offenses involving illegal drugs, weapons and/or gangs.
If you have been charged with a crime in the New Jersey Superior Court in Ocean County, or if you have a matter in any municipal court located anywhere in Ocean County, start putting your defense together immediately by contacting us today.