Out-of-State Appeals
Appeals in State and Federal Courts Outside New Jersey
New Jersey Appellate Attorney Representing Defendants in State and Federal Appellate Courts Throughout the United States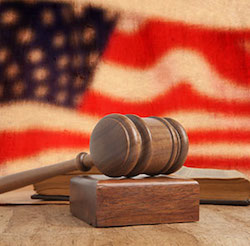 It is not unusual for criminal defendants who have been convicted of a crime in one jurisdiction to retain an appellate attorney from another state to represent them on the appeal of their criminal conviction in their home state. The defendant, their family, or other representatives can choose to adopt this course of action for any number of reasons.
The most important issue - particularly when there has already been a loss at trial and the stakes are high - is to select a skilled and experienced appellate attorney who promotes a certain comfort level among the defendant and their advisors. Local talent is not the only talent. Depending upon the facts and circumstances of the matter, the defendant's needs may be better served by an attorney from another state. In selecting appellate counsel in these situations, the defendant should be concerned with more than the attorney's physical location and purported local connections. An attorney's skills and level of experience also merit attention, regardless of where their office is situated.
James S. Friedman, LLC, has significant experience handling appeals for clients in state and federal appellate courts throughout the United States. Mr. Friedman has been provisionally admitted to practice in other courts on a case-by-case basis to represent clients on appeal. Geographical location does not necessarily have to be a bar to selecting the attorney that a defendant views as the most capable for their needs.
Working With local counsel in State and Federal Appellate Courts Throughout the United States
Local rules and practices can - and often do - vary tremendously from state to state, and even between courts within a particular state. Because of this, attorneys who are brought in from outside a particular jurisdiction to handle a case will work in tandem with local counsel to address the client's needs. Local counsel is an attorney licensed in the State of the court hearing the appeal who is primarily responsible for the administrative aspects of the case, such as assuring compliance with all filing deadlines and formatting requirements, making sure all fees are paid, and obtaining trial transcripts and other records relating to the matter. We handle the substantive aspects of the matter, which include reviewing the trial record, researching the arguments to be raised in support of the appeal, drafting the briefs and, if necessary, arguing the case before the appellate court. We do not necessarily have to be licensed in that state. We can be provisionally admitted to work on a particular matter, and provide the same high level of service that his New Jersey clients have come to know and trust.
Retaining an out-of-state attorney can be a very viable option for defendants who, for whatever reason, are unable to identify a satisfactory attorney locally, and want to look elsewhere for appellate representation.
If you have received an adverse ruling in a criminal case in any state or federal trial court in the United States and you wish to appeal your conviction, contact New Jersey criminal appeals lawyer James Friedman online or call 800-361-6554 (toll free) to schedule a consultation to learn more about his services.