Passaic County, New Jersey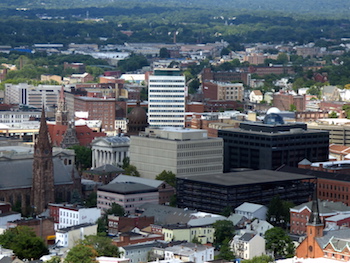 Passaic County is located in northeastern New Jersey. The Passaic County Superior Court, Passaic County Jail, and Passaic County Prosecutor's Office, are all located in Paterson, which is the County Seat. The Passaic County Criminal Division currently has nine judges.
The County is bordered by Essex County, Morris County, Bergen County and Sussex County. Major roads passing through Passaic County include Interstates 287 and 80; U.S. Routes 202 and 46; the Garden State Parkway, and Routes 23, 21, 20, 19, 4 and 3. New Jersey Transit's Main Line also passes through the County.
The following Municipalities, each with a Municipal Court, are located in Passaic County:
Bloomingdale
Clifton
Haledon
Hawthorne
Little Falls
North Haledon
Passaic
Paterson
Pompton Lakes
Prospect Park
Ringwood
Totowa
Wanaque
Wayne
West Milford
Woodland Park
The Passaic County Prosecutor's Office has the following special units and sections:
Juvenile Unit - Investigates and prosecutes juveniles charged with acts of delinquency in the Family Court. This Unit will also review new Complaints, and possibly divert those of first-time offenders with relatively minor charges to other arms of the Court where they can be disposed of more efficiently, and with little to no record. Complaints containing more serious charges, or those of repeat offenders, remain in the Family Court.
Domestic Violence Unit - This Unit enforces the criminal provisions of New Jersey's Domestic Violence statutes. It also handles contempt hearings resulting from violation of domestic violence restraining orders, and weapons forfeiture matters relating to domestic violence proceedings.
Homicide Unit - Investigates and prosecutes all murders, suspicious deaths and in-custody deaths in the County.
Vehicular Homicide - Car crashes are fairly common in New Jersey. This Unit investigates crashes that result in fatalities to determine whether the actions of the at-fault driver rise to the level of criminal conduct.
Arson Unit - Investigates all suspicious vehicle and structure fires to determine whether criminal prosecution is warranted under the State's arson laws.
Special Victims Unit - Focuses on cases involving the physical and sexual abuse of children.
Human Trafficking Unit - Handles labor and sex trafficking investigations and prosecutions.
Child Abduction Response Team - Responsible for investigating and prosecuting matters involving missing children, and/or allegations of child abduction.
Megan's Law Unit - Responsible for tiering convicted sex offenders who reside in Passaic County according to risk level (low, medium or high). Ensures compliance with all supervision and reporting requirements, and prosecutes alleged violations.
Public Integrity and Organized Crime Unit - Focuses on allegations of criminal conduct by public officials, and individuals and groups allegedly involved in organized criminal activity.
Financial Crimes Unit - Responsible for cases stemming from allegations of fraud and theft-related activity.
Insurance Fraud Unit - Investigates and prosecutes cases involving allegations of insurance fraud, including allegedly fraudulent claims relating to automobile policies and fraudulent health care claims.
Bias and Hate Crimes - Focuses on allegations of criminal conduct arising from acts of violence directed against an individual or group because of race, religion, ethnicity, national origin, gender, gender orientation, gender identity or handicap.
Gang Prevention and Intervention Unit - Tracks gang-related activities in the County. Works with the New Jersey State Police Street Gang Unit and local police departments.
Have you been charged with an indictable offense in the Passaic County Superior Court? Do you have a disorderly persons charge, a petty disorderly persons charge, or a traffic matter, in a Municipal Court in Passaic County? If so, contact us for quality representation and an effective thorough defense.