Removal From Megan's Law and Lifetime Supervision
New Jersey Megan's Law Attorney Representing Clients in Motions for Termination of Megan's Law Registration Requirement and Community Supervision for Life/Parole Supervision for Life Obligations in all New Jersey Counties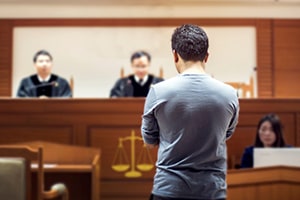 Megan's Law is actually a set of statutes that require the public disclosure of certain information regarding sex offenders. Community Supervision for Life/CSL or, more recently, Parole Supervision for Life/PSL are laws requiring, among other things, sex offender supervision by a parole officer.
Megan's Law was enacted in New Jersey in 1994. In 1996, Megan's Law was enacted on the federal level, giving states the ability to alert the public of the presence of a sex offender in the community. Another federal law enacted in 2016 requires that foreign governments receive notice when a United States citizen who is a registered sex offender enters their country.
Individuals who are convicted, or juveniles who are adjudicated delinquent, of a "sex offense" as defined in the New Jersey criminal code must register as sex offenders, and can be subject to parole supervision for life. The obligations associated with registration and supervision can require them to maintain regular contact with police and parole officers, bar them from living or working in certain places or settings, require them to comply with travel restrictions, and prevent them from using the Internet. Sometimes, Megan's Law registration and PSL can even prevent someone from attending family events, such as their own child's birthday party. Registration also carries a severe social stigma that can be, and often is, embarrassing and humiliating.
To get off Megan's Law, a person must:
Let 15 years pass from the time of their conviction or release from custody (whichever is later);
Show that they are unlikely to pose a threat to the safety of others in the community;
Must not have a conviction for more than one sex offense; and
Must not have been convicted of aggravated sexual assault under any circumstances or sexual assault where the actor commits an act of sexual penetration and the actor uses physical force or coercion.
To get off Parole Supervision for Life/PSL, a person must:
not have committed a crime for 15 years from the date of their last conviction or release from custody, whichever is later; and
Show that they are not likely to pose a threat to the safety of others if released from parole supervision.
A motion for removal from Megan's Law and termination of parole supervision for life can be made simultaneously. The motion must be supported by, among other things, an evaluation by a mental health professional (typically a psychologist of psychiatrist), to show that the person seeking termination is not a threat to the safety of others.
We are Megan's Law attorneys in New Jersey. In these matters, we prepare comprehensive motion papers in support of an application for removal that argue every conceivable fact which can help end the client's need to comply with this onerous and burdensome regimen of requirements and restrictions. Additionally, we work with experienced mental health professionals who understand the statutory requirements and know how to prepare effective evaluations that greatly increase the prospect for removal from the purview of these overbearing statutes.
Megan's and PSL compliance can be nightmarish. If you are subject to the requirements of these laws and you meet the above criteria, call us. Don't remain subject to Megan's Law and PSL any longer than you have to.
We represent individuals seeking to be relieved of their Megan's Law and Parole Supervision for Life/PSL obligations. If you are unfortunately subject to these statutes, satisfy the above requirements, and have had enough, call a seasoned Megan's Law lawyer for help.