Somerset County, New Jersey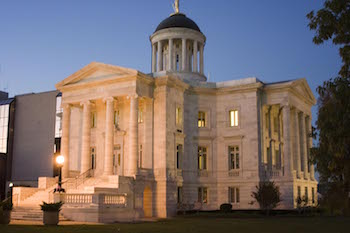 Somerset County is located in north-central New Jersey. The county seat, Somerset County Superior Court and Somerset County Prosecutor's Office are all in Somerville. The Superior Court in Somerset County is part of the Somerset/Hunterdon/Warren vicinage. The Court is located at 20 North Bridge Street, Somerville, New Jersey 08876. The Somerset County Jail, which houses defendants who cannot afford bail, is located at 40 Grove Street, Somerville, New Jersey 08876. The work of the Somerset County Criminal Division is currently divided among the Presiding Criminal Judge and three trial court judges.
Somerset County is bordered by Middlesex County, Morris County, Union County, Mercer County, and Hunterdon County. U.S. Route 22, U.S. Route 202, U.S Route 206, and State Routes 28 and 27, both pass through Somerset County. Numerous major county roads (512, 514, 518, 523, 525, 527, 529, 531, and 533) also service the area. The County, one of the oldest in the United States, has long had a reputation for being politically conservative. The County is currently ranked as the seventh wealthiest county in the United States, and the third wealthiest in New Jersey. It is also the State's thirteenth most populous county.
The following municipalities are all located in Somerset County:
Bedminster
Bernards
Bound Brook
Branchburg
Bridgewater
Franklin
Green Brook
Hillsborough
Manville
Montgomery
North Plainfield
Somerville
Warren
The Assistant Prosecutors and Investigators of the Somerset County Prosecutor's Office focus upon the following major areas:
Sex Crimes and Family Protection - Investigation and prosecution of incidents stemming from allegations of sex crimes, child abuse, juvenile offenses and domestic violence crimes. Issues concerning Megan's Law tiering and notification are also handled as part of this area.
Juvenile Offenses - Juvenile matters are adjudicated in the Superior Court, Family Division, Juvenile Part. Juvenile offenses are offenses that would be crimes, disorderly persons offenses, petty disorderly persons offenses or ordinance violations if committed by an adult (e.g., someone over the age of 18).
Domestic Violence - Investigation and prosecution of incidents concerning the alleged violation of a domestic violence (or final) restraining order.
Major Crimes - Personnel in this area investigate and prosecute cases involving, among other things, murder, armed robbery, aggravated assault and arson.
Organized Crime and Narcotics - Personnel in this area investigate and prosecute offenses arising from allegations of violations of the State's narcotics, gambling, and racketeering laws, as well as gang-related activities.
Special Investigations - Focuses upon Official Corruption, Economic Crimes, Bias and Hate Crimes, Environmental Crimes, Computer Crimes, and Insurance Fraud.
Like every other county prosecutor's office in the State, The Somerset County Prosecutor's Office plays major roles in such matters as the County's Pre-Trial Intervention Program ("PTI"), and applications for expungement of criminal records.
The Criminal Division in Somerset County also includes a very active drug court program.
Do you have an adult indictable criminal case pending in the Superior Court in Somerset County? Do you have a disorderly persons charge, petty disorderly persons charge, DWI or traffic matter pending in any municipal court in Somerset County? Does your son or daughter have a juvenile matter pending before the Juvenile Part of the Somerset County Family Division? We represent defendants in all of these matters. Contact us today to start planning your defense to your Somerset County criminal case.