State Criminal Charges
Criminal Attorney Defending Adult and Juvenile Defendants in the State Courts of New Jersey and New York City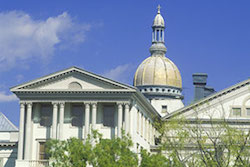 How do you choose the right defense attorney for your criminal case? Find one who understands the law, the courts, and the strategies to handle criminal charges effectively. Use the attorney who will try to negotiate a non-trial resolution of your case while also preparing the matter for trial if that is not possible.
James S. Friedman, LLC, is committed to providing a strong and effective defense to clients facing criminal charges in New Jersey and in New York City. We represent defendants in the State courts of New Jersey and New York City, and in municipal courts throughout New Jersey, charged with the following offenses:
Violent crimes (murder, robbery, carjacking, kidnapping, assault, sexual assault and rape);
Sex offenses, including crimes implicating Megan's Law and pornography offenses;
Bias crimes/hate crimes;
Bribery, racketeering and corruption charges;
Official/police misconduct charges;
Prostitution;
Gambling offenses;
Property crimes (car theft, burglary, receiving stolen property, fencing, arson, and trespass);
Non-violent theft crimes;
White collar crimes (forgery, welfare fraud, insurance fraud, health care claims fraud, credit card fraud, and charges arising from bad checks);
Perjury;
Escape from custody;
Disorderly conduct and criminal mischief;
Domestic violence;
DWI/DUI and traffic/motor vehicle offenses; and
Other crimes and offenses.
Mr. Friedman works closely with clients to aggressively protect their constitutional rights, preserve their freedom and obtain favorable outcomes in criminal cases. In addition to representing defendants on their substantive charges, Mr. Friedman also seeks bail reductions for clients who are incarcerated pending the disposition of their cases.
Effective Criminal Defense Against State Drug Charges
State or federal drug/narcotics charges can be severe and carry serious penalties, particularly if the allegations include the use of a firearm in the course of committing a narcotics-related offense. If you are facing a drug charge in State court, you need to retain an experienced criminal defense attorney who has handled numerous narcotics cases.
James S. Friedman, LLC, defends clients accused of drug/narcotic offenses, including:
Simple possession;
Possession with intent to distribute;
Drug distribution and trafficking;
Manufacturing;
Leader of an ongoing drug-related enterprise;
"School Zone" charges;
Conspiracy;
Use of a juvenile in a drug distribution scheme;
Guns and drugs; and
Other drug or narcotics charges.
Helping the Client Make Informed Decisions
Mr. Friedman begins each case by conducting a thorough investigation and, if necessary, uses professional investigators to provide additional insight into the chain of events that forms the basis for the charges. Based on his investigation, Attorney Friedman and the client work together to determine the best way to handle the case.
Contact Attorney James S. Friedman
Mr. Friedman uses his considerable experience in criminal matters to evaluate each case on its own merits. To schedule a consultation, call Mr. Friedman at 800-361-6554 (toll free) or contact him online.