Inmate Disciplinary Appeals
Appeals Lawyer Representing New Jersey Inmates in Appeals from Prison Disciplinary Proceedings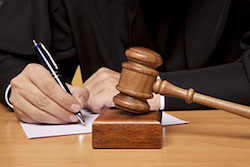 Inmates in New Jersey state prison retain certain rights regardless of their incarceration. One of those is the right to appeal an adverse disciplinary ruling resulting from an alleged violation of institutional rules. Prison life is tough and filled with many opportunities to get into trouble with fellow inmates and prison guards. As a result, many prison inmates incur charges during their term of incarceration. Inmates who are found guilty of such charges need a seasoned inmate disciplinary appeals lawyer in New Jersey to represent them before in the Appellate Division.
Causes of Inmate Disciplinary Charges
Typical prison or jail disciplinary matters that can lead to an appeal include:
Fighting;
Escape or attempted escape;
Weapons possession;
Attacking or assaulting an officer or inmate;
Destroying security equipment or other prison property;
Refusing to obey orders;
Being in a particular area of the facility without authority;
Drug use, or failure to provide a urine sample on request; and
Being caught with a cell phone or other prohibited electronic device or contraband.
A Biased and Hostile Forum
Disciplinary matters are initially dealt with in the prison setting, without meaningful legal representation for the inmate. Most people do not know that the New Jersey prisons have their own internal court system, frequently referred to as "Courtline". Courtline consists of two levels. At the first level, a hearing officer will hear testimony, usually from a corrections officer, describing the alleged violation. The inmate is not entitled to representation by a trained attorney at this stage, but can present evidence in their defense. Not surprisingly, the hearing officer almost always finds the inmate guilty. The punishment can consist of a series of harsh sanctions that can include a period of time in "administrative segregation" (solitary confinement), loss or curtailment of visiting privileges, and loss of valuable time credits.
The inmate can then appeal the hearing officer's decision to the administrator or superintendent of the prison facility where they are housed or, if they were moved, where the incident occurred. The administrator typically "rubber-stamps" the decision of the hearing officer.
Your Right to Appeal a Guilty Finding in a Disciplinary Action to the Appellate Division of the New Jersey Superior Court
At this juncture, the inmate can finally seek real justice by retaining a New Jersey inmate disciplinary appeals attorney to appeal the decision of the administrator to the Appellate Division of the New Jersey Superior Court. This can be the first opportunity for an unbiased review of the case, since this appeal will be heard by a panel of appellate court judges, as opposed to employees or representatives of the New Jersey Department of Corrections. A successful appeal could restore the inmate's privileges.
Inmate disciplinary appeals are very different from any other kind of appeal. For one thing, the only "record" of the Courtline proceedings consists of the hearing officer's handwritten notes on standard DOC forms. These matters require an inmate disciplinary appeals attorney in New Jersey who understands both the operations of the State prison disciplinary system and appellate procedures.
Experience With Appeals from Inmate Disciplinary Proceedings
The New Jersey, law firm of James S. Friedman, LLC, represents inmates who seek to appeal an adverse disciplinary ruling to the Appellate Division of the New Jersey Superior Court. We have represented numerous inmates in disciplinary appeals, resulting in the restoration of time credits, visitation privileges, and other valuable rights.
Call a Lawyer who Understands New Jersey Inmate Disciplinary Appeals
If you know a prison inmate in New Jersey who has been disciplined for an alleged violation of prison rules and wishes to appeal, contact New Jersey disciplinary appeals lawyer James S. Friedman - a criminal appeals lawyer who understands the state prison system and the disciplinary appeals process, at 800-361-6554 (toll free) or contact him online.