Mercer County, New Jersey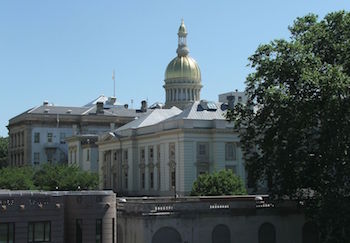 Mercer County is located in the central/western part of New Jersey. The county seat, Trenton, is also the State capital. Mercer County is among the highest income counties in the United States, and is also home to several colleges and universities including Princeton University, Rider University, The College of New Jersey, and Thomas Edison State College. Adjacent counties include Middlesex County; Somerset County; Monmouth County; Burlington County; and Hunterdon County.
The County's courthouses are all located in Trenton. The United States District Court for the District of New Jersey also maintains a federal vicinage in Trenton. The Office of the United States Attorney for the District of New Jersey has a branch office there as well. The Mercer County Correctional Center is located in Lambertville.
Roads in Mercer County include Interstates, US Routes, State Routes, and County Routes. The Interstates passing through the County (in a somewhat confusing way) are I95; I195 and I295. State routes include 27; 29; 31; 33; 129; and 133. US routes include 1; 130; and 206.
The following municipalities, each with its own municipal court, are located in Mercer County:
East Windsor
Ewing
Hamilton
Hightstown
Hopewell
Lawrence
Pennington
Princeton Borough
Princeton Township
Robbinsville
Trenton
West Windsor
The Mercer County Prosecutor's Office, located in Trenton, has the following special units:
Arson – Focuses upon various types of cases involving suspicious fires, (e.g., where it appears that someone intentionally started a fire or caused an explosion), arson for hire, and failure to report or control a fire.
Bias Crimes - Bias crimes include various acts of prejudice or violence directed toward individuals, groups or institutions because of race, religion, gender, sexual orientation, gender identity, gender expression, national origin or ethnic background. These acts may cause physical injury or property damage.
Domestic Violence – Investigates and prosecutes indictable violations of restraining orders, as well as allegations of attempted murder, burglary and terroristic threats as they relate to domestic violence. The unit is also responsible for forfeiture issues involving weapons seized in connection with domestic violence matters.
Economic Crimes – This unit investigates and prosecutes substantial economic crimes, offenses against senior citizens, and official/governmental corruption in municipal and county governments. The activities of this unit have focused on such things as money laundering operations, large fraudulent check cashing rings, identity theft investigations, alleged misappropriation of funds from group homes and alleged criminal conduct by home improvement contractors.
Homicide – Investigates and prosecutes all homicides that occur in the County.
Insurance Fraud – Focuses upon cases involving allegations of insurance fraud, including suspicious vehicle and structure fires, and health care claims fraud.
Internal Affairs – Investigates, among other things, law enforcement personnel charged with violations of applicable procedures. This can include issues concerning police use of weapons, police pursuits, and injuries by police to drivers, passengers and pedestrians.
Juvenile Unit – Investigates and prosecutes all petitions for juvenile delinquency.
Megan's Law Unit – Supervises convicted sex offenders who are required to register pursuant to Megan's Law. Investigates and prosecutes violations of Megan's Law requirements.
Serious Collision Response Team - The Serious Collision Response Team investigates and prosecutes all criminal cases that involve motor vehicle crashes. This includes car crashes involving fatalities (vehicular homicide), as well as severe crashes that did not necessarily involve death of a vehicle occupant or pedestrian.
Special Investigations/Gang Unit – Investigates and prosecutes individuals and groups accused of selling illegal drugs, as well as allegations of gang-related crime.
Special Victims Unit – Focuses on cases involving allegations of physical and sexual abuse of children and adults.
Do you have a criminal case in the Mercer County Superior Court? Or a municipal case in any municipal court in Mercer County? Or a federal criminal case in the United States District Court in Trenton? If so, start planning your defense by contacting us today.